Review Buku Desain: French Flair, Modern Vintage Interiors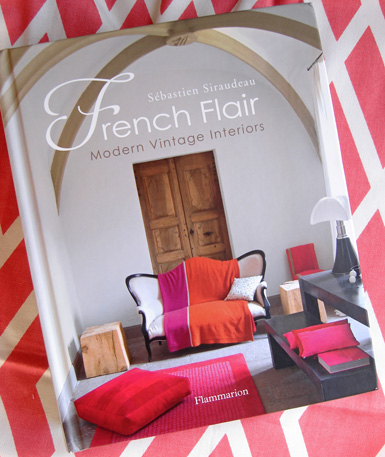 Apakah Anda memiliki banyak buku desain yang "cantik"? Referensi gaya desain tertentu yang menjadi identitas Anda? Terinspirasi dari seorang "teman" yang "meracuni" saya dengan gaya yang jarang saya pakai dalam mendesain..
Jika Anda menyukai tampilan vintage dengan barang-barang yang bergaya shabby dengan sentuhan modern dan eklektik, Anda akan menyukai buku ini! Buku ini ditulis dan difoto oleh seorang fotografer  bernama Sébastien Siraudeau berkebangsaan Prancis yang menggeluti foto interior arsitektur.
Saat desain bergaya "modern minimalis" sering mengabaikan warisan budaya dan identitas, warisan seni dan budaya.. Buku ini mengangkat kembali nostalgia masa lalu yang di "mix" dengan masa kini. Menghasilkan sebuah atmosfir yang kaya dan modis untuk perancangan sebuah ruang.
Buku ini menyatukan interior yang unik dan bergaya di Prancis. Dari lebih dari 100 lokasi, dipenuhi dengan ratusan gambar yang menjelaskan setiap detail  dari ruang-ruang (lebih dari 700 halaman!) yang didesain dengan berbagai gaya, untuk Anda jadikan sebagai inspirasi dalam merancang.
Saya posting beberapa gambar untuk memberikan sedikit gambaran mengenai isi buku ini. Buku yang menyenangkan untuk menemani akhir pekan yang indah. =) Hope you're doing something fun!
warm regards..
*B.
"Let yourself be guided through the extraordinary destinations replete with French panache and inspiration…from rural guesthouses to charming antique shops to seaside retreats; enjoy them from the comforts of your own home or use the address book to plot your course to visit these rare and exceptional places in person." (diambil dari bagian introduction).