Interior Design BINUS University's road trip to Yogyakarta, Solo and Semarang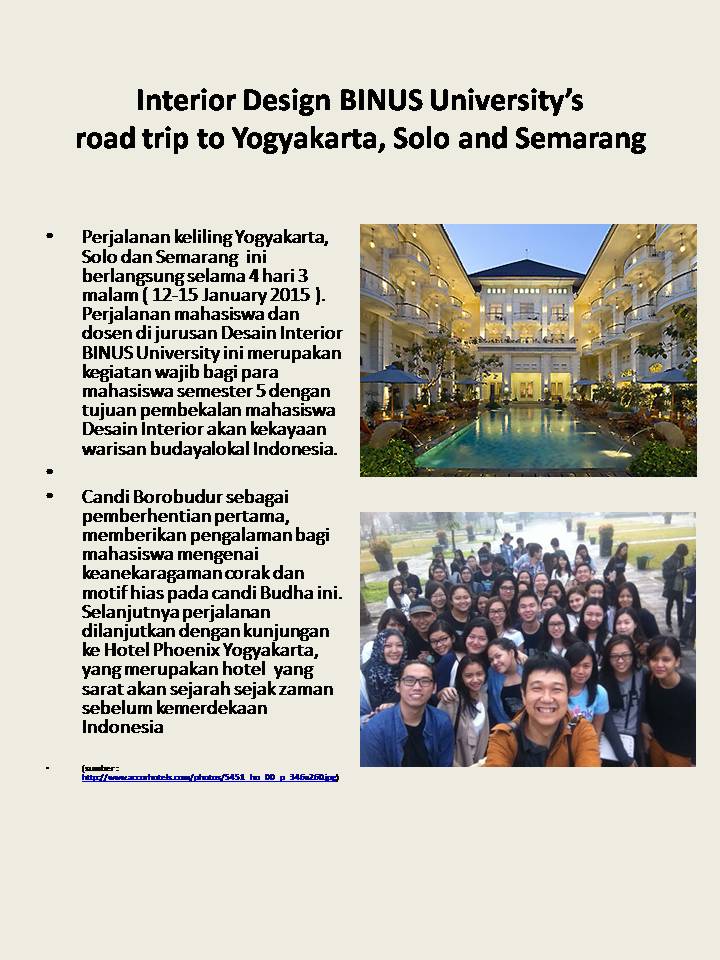 Perjalanan keliling Yogyakarta, Solo danSemarang  ini berlangsung selama 4 hari 3 malam (12-15 January 2015 ) . Perjalanan mahasiswa dan dosen di jurusan Desain Interior BINUS University ini merupakan kegiatan wajib bagi para mahasiswa semester 5 dengan tujuan pembekalan mahasiswa Desain Interior akan kekayaan warisan budaya lokal Indonesia.
Candi Borobudur sebagai pemberhentian pertama, memberikan pengalaman bagi mahasiswa mengenai keaneka ragaman corak dan motif hias pada candi Budhaini.
Selanjut nya perjalanan dilanjutkan dengan kunjungan ke Hotel Phoenix Yogyakarta, yang merupakan hotel yang sarat akan sejarah sejak zaman sebelum kemerdekaan Indonesia