PERANCANGAN INTERIOR INTERNATIONAL BRIDAL HOUSE DI JAKARTA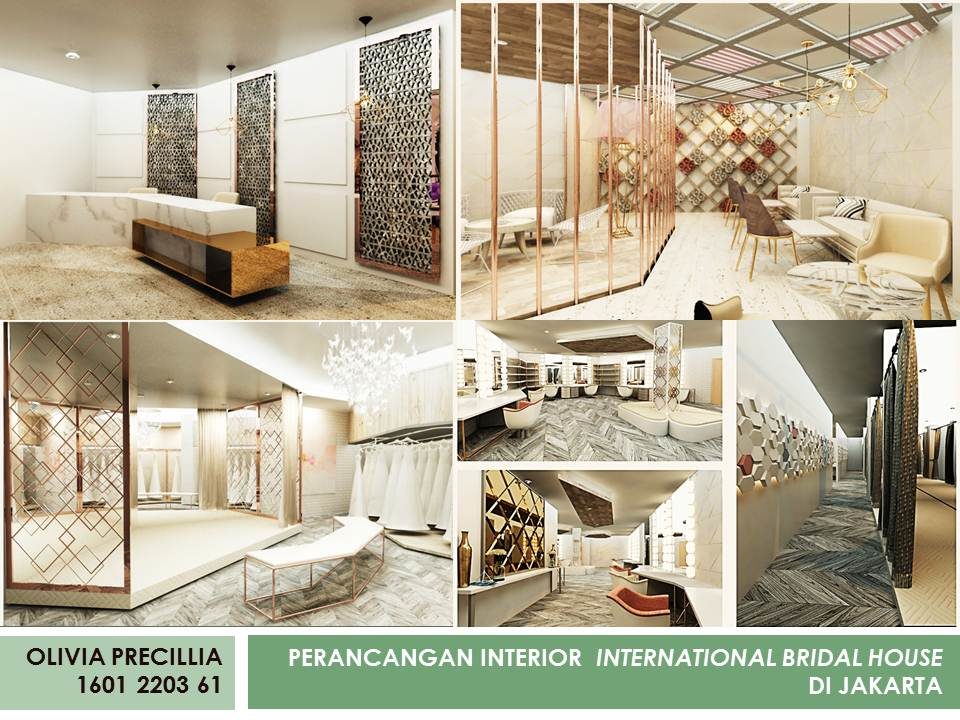 OLIVIA PRECILLIA 1601220361
TUGAS AKHIR KARYA BINUSIAN DESAIN INTERIOR 2016-2017
Perancangan interior mengusung tema beauty of jewel demi mengisahkan pernikahan yang abadi melalui lambang permata yang elok, elegan dan tak ternilai.
Penerapannya melalui desain interior bergaya high-end, terasa kemilau dalam pemilihan warna soft pastel pada semua elemen interior dipadu dengan emas dan krom pada elemen dekorasi serta pemilihan lampu-lampu yang memantaskan ruang demi ruang tampil indah.
Pemanfaatan ruang tidak hanya fokus kepada masing-masing fungsinya dalam konteks Bridal House of Beauty, akan tetapi begitu melenakan perasaan calon pengantin wanita sebagai klien. Melalui rancang interior yang berkesan luas, membebaskan klien berimajinasi  dengan keinginannya akan penampilan menjadi ratu sehari pada hari pernikahan nanti.
Dalam ruang yang berkesan luas tetap memungkinkan menerima beberapa klien sekaligus dan menjamin privasi tiap klien terlayani dengan baik.