SUNSET CHAIR & SUNSET FLOOR LAMP, monopoli hotel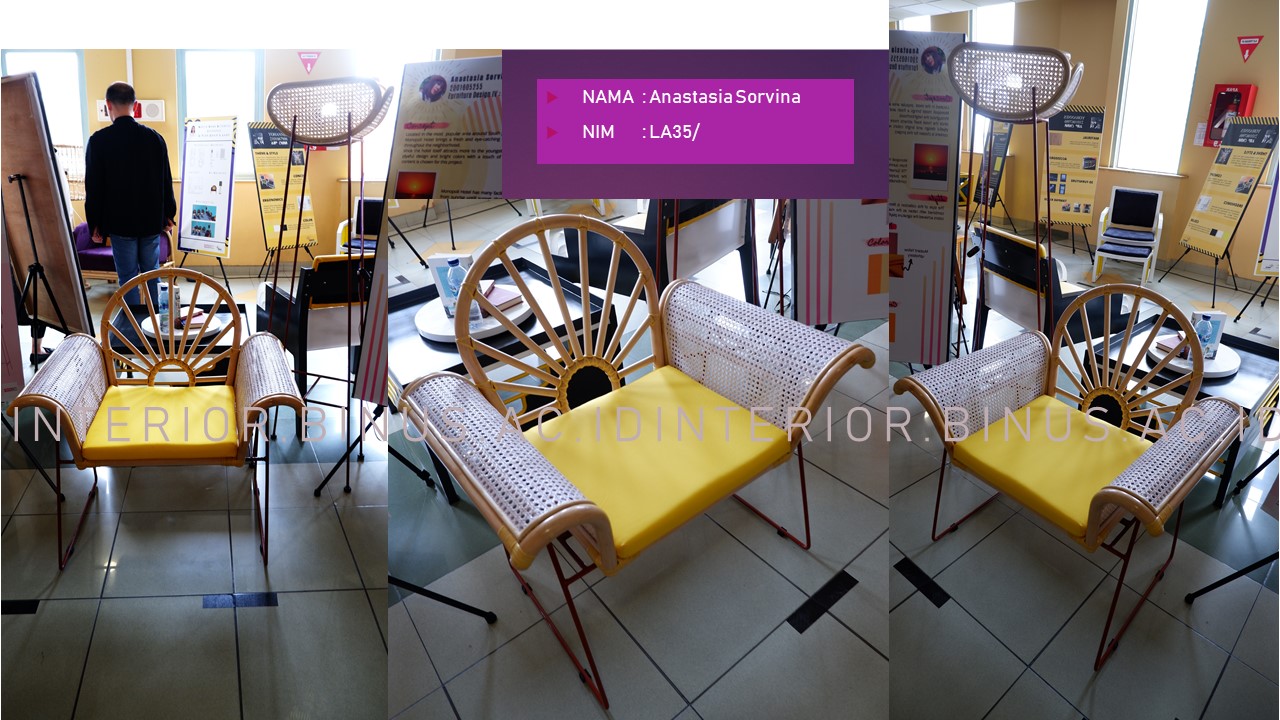 TUGAS M.K. DESAIN FURNITUR 2: HOTEL
ANASTASIA SORVINA
LA35/2001605255
Sunset Chair and Sunset Floor Lamp is made for Monopoli Hotel, a boutique hotel located in Kemang, South Jakarta, one of the most anticipated region in Jakarta. Monopoli Hotel has a unique design. The european style building facade quite stand out around the neighborhood. The interior itself is very interesting, you can sense the retro ambience once you entered the front door.
The Sunset Chair and Sunset Floor Lamp is made for the hotel's Rooftop Restaurant and Bar, The Moon. The concept of the furniture is called "Till Sunset", mimicking the form of the sun when it set. The reason behind the concept is to deliver the idea that people can enjoy the hotel's facilities from daylight to midnight. The organic shape and bright color material is to represent the youth, since the target market of the hotel is young adults. Eventhough the target market are mostly young adults, the achievement is to create a design that have the "Monopoli" looks, the retro looks, so it will connects with the rest of the interior style.
The material that are used in the chair are mostly rattan in natural color finishing in matte, woven rattan in white color so the chair won't look boring, and metal legs in brown color. Yellow seat cushion also used to make it chic and more playful. The Sunset Floor Lamp has the same material with the chair, rattan for the frame and woven rattan is used to mute the light a little bit so it's not too bright to see. The legs are also made from metal. The lamp is to compliment the chair so the room looks more integrated. Besides the looks, the Sunset Chair and Sunset Floor Lamp also very consider about the comfort when people use it, so the measurements are depends ergonomic and antropomethry.