The Sui Utik, Creative Works and Tembawang: Retaining Biodiversity in Kalimantan, Indonesia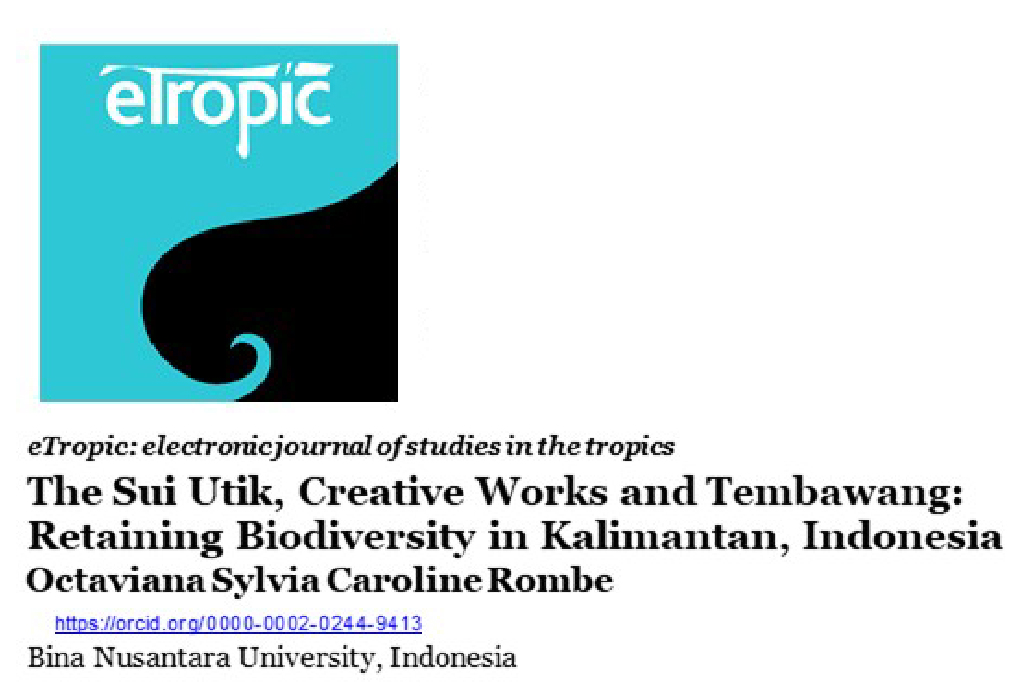 eTropic: Electronic Journal of Studies In The Tropics, Vol. 19 No.1, 2020
Dosen Desain Interior Binus University, Octaviana Sylvia Caroline Rombe dalam penelitian terbarunya yang sudah dimuat dalam jurnal internasional terindeks Scopus yaitu eTropic: Electronic Journal of Studies In The Tropics, Vol. 19 No.1, 2020, yang diterbitkan oleh James Cook University – Australia, mengangkat isu kearifan lokal budaya Indonesia yang kian tergerus tapak modernisasi dan upaya beliau gigih menyampaikan keberadaannya kepada dunia melalui tulisan ini.
   Tulisan ini saya buat sebagai bentuk keprihatinan saya terhadap semakin berkurangnya penghargaan terhadap kearifan lokal Indonesia, bagaimana keserakahan terhadap penguasaan lahan untuk kepentingan individu dan menjadikan kearifan lokal yang sudah turun temurun sebagai kambing hitam.
     Kearifan lokal Tembawang, peladangan berpindah dan pembakaran lahan dalam skala kecil, itu adalah bagian kearifan lokal suku Dayak Iban yang sudah menjadi budaya dan gaya hidup turun temurun sebagai upaya menghargai dan melestarikan kehidupan, bukan sebaliknya.
    Di dalam tulisan saya ini, saya mengulas dengan memberikan studi kasus bagaimana kita sebagai desainer bisa menjadi bagian dalam perjuangan teman-teman suku di pedalaman Indonesia dalam mempertahankan kearifan lokal dan kekayaan hayati negeri kita tercinta.
     Selain itu, tulisan ini saya buat juga untuk mendukung pembuatan website dari penjualan karya-karya teman-teman yang berada di lini terdepan perjuangan dalam mempertahankan kearifan lokal dan kekayaan hayati Indonesia.
Semoga tulisan ini menginspirasi.
Selengkapnya dapat dibaca melalui jurnal berikut.
eTropic: electronic journal of studies in the tropics publishes new research from arts, humanities, social sciences and allied fields on the variety and interrelatedness of nature, culture, and society in the tropics. Published by James Cook University, a leading research institution on critical issues facing the worlds' Tropics. Free open access, Scopus, Google Scholar, DOAJ, Crossref, Ulrich's, SHERPA/RoMEO, Pandora, ISSN 1448-­2940. Creative  Commons CC BY 4.0. Articles are free to download, save and reproduce. Citation: to cite this article include  Author(s), title, eTropic, volume, issue, year, pages and DOI: http://dx.doi.org/10.25120/etropic.19.1.2020.3696