DF3 Office Chair: UNIPLEMITION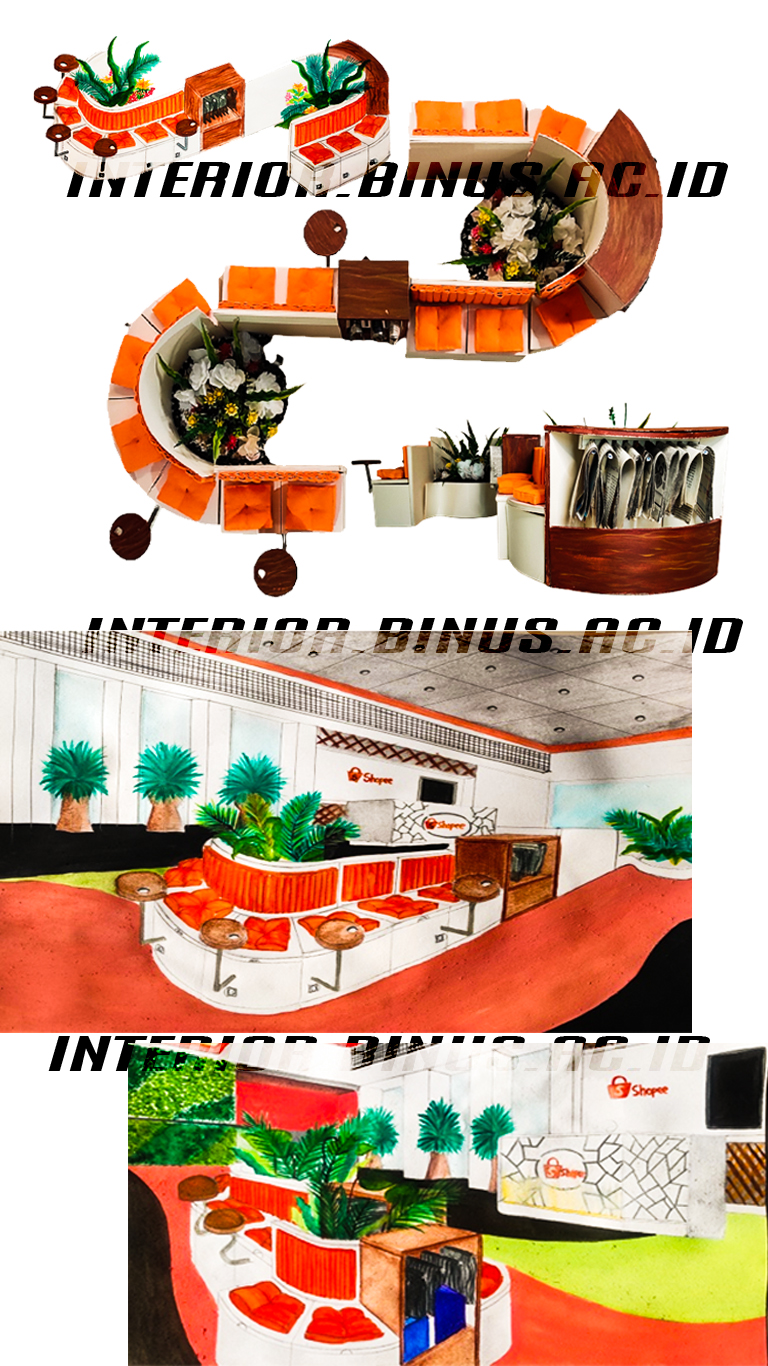 Rizqa Safira Anardi
2301853994
THE SHOPEE OFFICE IS A MODERN OFFICE WITH AN AREA OF 4000 SQUARE METERS LOCATED IN THE ASCENT BUILDING JLN. 5 SCIENCE PARK, SHOPEE BUILDING, SINGAPORE 118265. THE CONCEPT OF THE SHOPEE OFFICE APPLYING THE CONCEPT OF CONNECTIVITY, COMMUNITY, AND COLLABORATION TO CREATE A SELF-FREE SPACE AND AN ENTIRE OFFICE ENVIRONMENT IN COLLABORATION. THE THREE CONCEPTS REPRESENT AN ACTIVE AND CREATIVE E-COMMERCE COMPANY.
FOLLOWING THE PRESENTATION OF 3 CONCEPTS OF SHOPEE OFFICE SPACE :
COLLABORATION MEANS, THIS OFFICE IS DESIGNED SO EMPLOYEES CAN COOPERATE IN A COMFORTABLE WORKING ATTEMPT.
WHILE THE COLLABORATIVE ELEMENTS ARE SEEN FROM THE INTERACTIVE DESIGN OF EMPLOYEES' WORK AREA. EACH TABLE IS CREATED WITHOUT LIMITATIONS SO, IT CAN PROMOTE DISCUSSION AND COLLABORATION BETWEEN DEPARTMENTS.
COMMUNITY MEANS, SHOPEE ENSURES THE BRAND THEY CARRY HAS A UNIQUE IDENTITY. SHOPEE'S NEW BUILDING REFLECTS THE SPIRIT OF MUTUAL HAVE SO, EMPLOYEES CAN GROW AS A SOLID TEAM.
CONNECTIVITY MEANS, EXTENSIVE SPATIAL NETWORK PATTERNS ALONG WITH THE CONNECTIVITY THEME BECAUSE SHOPEE HELPING TO CONNECT MILLIONS OF SELLERS AROUND THE PLATFORM.
SHOPEE OFFICE WAITING ROOM CONCEPT: THE DESIGN CONCEPT OF THE WAITING CHAIR UNITES TO 4 COMPONENTS LONG SOFA CHAIR, POT, CIRCLE TABLE AND, RECTANGULAR TABLE THAT ARE BROKEN INTO 1 COMPONENT WITH PUZZLE CONNECTIONS IN THE FORM OF PUZZLE MEANS, BY FISHING OUTSIDE IN UMASIANGAN, UMASANGAN YUDESUA CITY, AND BIG. THIS CONCEPT INCLUDES COLLABORATION, CONNECTIVITY, COMMUNITY AND, ENVIRONMENT. WITH UNIQUE KEYWORDS, SIMPLE, MINIMALIST AND, MULTIFUNCTIONAL. THE COLOURS USED ARE ORANGE, LIGHT BROWN, GRAY, AND WHITE.
WAITING ROOM CHAIR COLOR CONCEPT :
THE COLOR SELECTION OF THE WAITING CHAIRS HAVE THEIR OWN REASONS RELATED TO THE COLOR OF THE SHOPEE BRAND LOGO THAT HAS THE MEANING OF:
1. SIMPLE
We believe in simplicity and integrity, ensuring an honest, down-to-earth, and honest life with ourselves.
2. HAPPY
We are friendly, fun-loving, and full of energy, spreading joy with everyone we meet.
3. TOGETHER
We enjoy spending quality time together while shopping online with friends and family – doing the things we love as one big whole.
A BRIEF DESCRIPTION : AT THE SHOPEE OFFICE THE WAITING ROOM HAS MANY ADVANTAGES. WHERE EMPLOYEES AND VISITORS CAN ENJOY WITH COMFORTABLE WAITING CHAIRS. PLUS, WITH COMPLETE FACILITIES SUCH AS NEWSPAPER RACK AND MAGAZINE SHELF FACILITIES. SO VISITORS AND EMPLOYEES CAN DO OTHER ACTIVITIES. IN ADDITION, IF EMPLOYEES OR VISITORS BRING COMPUTERS/HP, CAN STOP CONTACT AVAILABLE. THIS THING, AVOIDING THE HP/COMPUTER POWER YOU HAVE ALMOST OUT. SO, IF THERE IS A PROMISE WITH EMPLOYEES/MANAGERS/DIRECTORS IN THE OFFICE, YOU CAN CONTACT THEM WITHOUT LOOKING FOR THE CONTACT STOP WHICH IS USUALLY LOCATED NEAR THE BATHROOM. AS WELL AS A CIRCLE-SHAPED TABLE EQUIPPED A DRINK.
THIS SHOPEE OFFICE WAITING CHAIR IS INSPIRED BY THE LETTER S IN THE SHOPEE LOGO. S-SHAPED SEATS WILL BE VIEWED FROM ABOVE. AS IN THE IMAGE BELOW.